The Xbox One might not be the king of consoles, but between the original version, the Xbox One S, and the Xbox One X, the user-base for Microsoft's latest-generation gaming platform is still a major hit. With millions playing games on this platform, it's no surprise that accessories and peripherals for the system are also at an all-time high.
Perhaps one of the most coveted accessories is an Xbox One gaming chair. Today, we're going to take a look at what we believe are the very best gaming chair models for Xbox One players.
Below, you'll find our full list of top picks, a brief summary of each seat, an explanation as to why we believe each one is a worthy choice, details on where you can buy them, and more. Enjoy!
Best Xbox One Gaming Chair Models [2019 Edition]
It's 2019. Whether you're just a casual gamer that enjoys playing solo for the pure joy of it or you're a dedicated streamer fighting to reel in subs and make gaming your career – EVERYONE needs a great chair for their gaming sessions.
Most gamers spend 2-5+ hours PER DAY playing games on their console of choice, PC, or mobile device. In order to stay comfortable you're going to need a chair that packs proper support, durability, and looks in one package. Luckily, there are hundreds to choose from these days.
Below, we've provided a list of what we believe are the absolute BEST gaming chairs for Xbox One users. Our selections are based on a number of factors including build quality, comfort level, appearance, price, and more.
When deciding on a Xbox One gaming chair, there are several things to consider. How important, for instance, is being able to kick your feet up? There are some great gaming chairs out there that don't have the reclining ability. Do you want your chair to broadcast audio? There are gaming chairs equipped with speakers that will do just that.
How about haptic feedback? That tactile vibration most folks are familiar with thanks to their phones or controllers. Is that something you might want from your chair? They make those, too! We've done the research and sorted through the reviews. Come on in, have a seat, and let us help you find your new ride!
Below, we've listed what we believe are the absolute best gaming chair choices for Xbox gamers. These chairs were selected based on factors such as style, level of comfort, price, durability, and more. To make things quick and to the point we've highlighted our top 3 picks overall straight out of the gate in case you're not looking to read through in-depth summaries of the chairs listed further down the page.
Best in class in terms of comfort, style, and looks, this chair from KillaBee is an excellent option for practically all Xbox One enthusiasts. It's well-built, has superb longevity, is ridiculously comfy, and it looks phenomenal. The price isn't too shabby, either!
For a chair that comes in at under $100, this Homall chair is actually a lot of bang for your buck. The build quality is decent, it's quite comfortable even during long gaming sessions, it comes in different color options – ultimately, if you're looking for a great chair that doesn't break the bank, this is, by far, the single best option on the market.
For our larger and taller brethren and sisters, this chair from KillaBee is the ultimate choice for comfort, ample size, superior padding, and durability. It's designed specifically for the big and tall and is undoubtedly the best Xbox One chair for the basketball-star and linebacker-sized gamers of the world.
Why Get a Gaming Chair?
Why should you bother getting a gaming chair to use while playing your favorite titles on your Xbox One? Is it even worth the money? These are questions we hear all the time. And the answer isn't so simple.
If you're a dedicated gamer that spends countless hours in front of the screen it's going to be a far more worthy investment than if you just play casually here and there. For most, buying a gaming chair is more or less for aesthetics than practicality – it's just a fact.
If you're looking purely for functionality you're probably going to save a bit of money and get more bang for your buck by checking out some great office chairs for your gaming setup rather than getting a "gaming chair".
By the way – if you're looking for options for other gaming platforms, be sure to check out our list of the best PS4 gaming chairs as well.
This chair is the ultimate in reclining comfort! Besides the fact that it comes with a massaging lumbar pillow (with two separate vibration modes, no less), it was made with a broader seat and back than you typically find in the office style chairs.
The armrests are non-mobile when the chair reclines, however, they are height adjustable and thickly padded for maximum comfort and the perfect, ergonomically correct fit for you when you're in the upright position. Sturdy casters roll easily across most surfaces.
Four color options: Black, Blue, Red, and White
Footrest optional (only on black, red and white currently)
Reclines to 150°
360° Swivel
Retractable footrest moves independently of the reclining backrest
Massaging lumbar cushion with two modes included!
Large seat and full back for ultimate comfort
Ergonomic design with high-quality polyurethane covering
Holds up to 300 pounds
Broad base with casters for easy mobility
This baby will run you about $190. However, it has a 4.9 out of the 5-star review. The most common complaint was that the padding was a little off in one way or another for a couple of folks out of 100+, but even they said that, despite that, the chair was still comfortable.
This chair is one of the best on the market for gaming right now. It is priced under $150; it comes in 5 different colors, it is ergonomic, made of high-quality materials and has a 360° swivel.
This chair has a footrest that slides out and then folds over to make it just that much longer. The armrests recline with the chair, and the backrest moves separately from the seat. The height is fully adjustable, and it comes in a variety of colors.
The included pillows are fully adjustable and removable, as well. This chair also can lock into a tilted back position without being reclined and sports segmented padding on the backrest for ultimate comfort. Clean lines and subtle accents lend a sleek and professional look to this chair.
Take a more in-depth look:
Excellently priced
High quality bonded leather in 5 different color combinations
Reclines and swivels
Ergonomic design with nearly lay flat recline (130°)
Central pivot point with infinite locking positions
Neck and lumbar pillows included
Racecar style seat design lends a sleek look and practical functionality
Holds up to 275 pounds
In conclusion, if you are looking for a gaming chair that reclines and swivels, or one that might second as a desk chair, or only one that rolls, this is going to be a pretty good bet overall.
This chair made number three for its ergonomic leather and steel design and higher weight capacity. Having received 4.5 stars out of 5, it retails for around $270, but we found it through Google express and Amazon for under $150.
This chair comes in three different colors with black as the primary color. There are bright orange, lime green, and light blue options for the accent color. The accents are done tastefully and are not overpowering so the chair would not look out of place if it were to be left out in a living area.
The ergonomic style gives maximum support and is designed to relieve pressure points and fatigue which, in turn, helps you to think more clearly and have more energy throughout your day.
The backrest and seat move as one but the footrest moves independently and allows for a full, lay flat recline. The armrests on this model are fixed and will not move as the chair reclines; however, they are thick and padded for comfort during upright use.
Let's take a closer look:
Easy assembly with detailed instructions
Perfect for a console or computer gaming
Reclines and swivels
Sturdy construction allows for usage versatility
Headrest and lumbar pillows included
Holds up to 275 pounds
Overall, with the discounted price, this chair would be perfect for taking from your Xbox One to your desk and back. Some reviewers mentioned the footrest being a little short on this one, as well, but it will hold more weight and is more ergonomically correct than the ones that ranked lower.
The price point has this chair ranking lower than the others. It is the second most expensive Xbox One chair on this list (besides X-Rockers with options listed further down the page), and it is a particular style. This chair, while touting great features like swivel and tilt, only comes in a Captain America theme. If you're a big CA fan, then this may be the chair for you!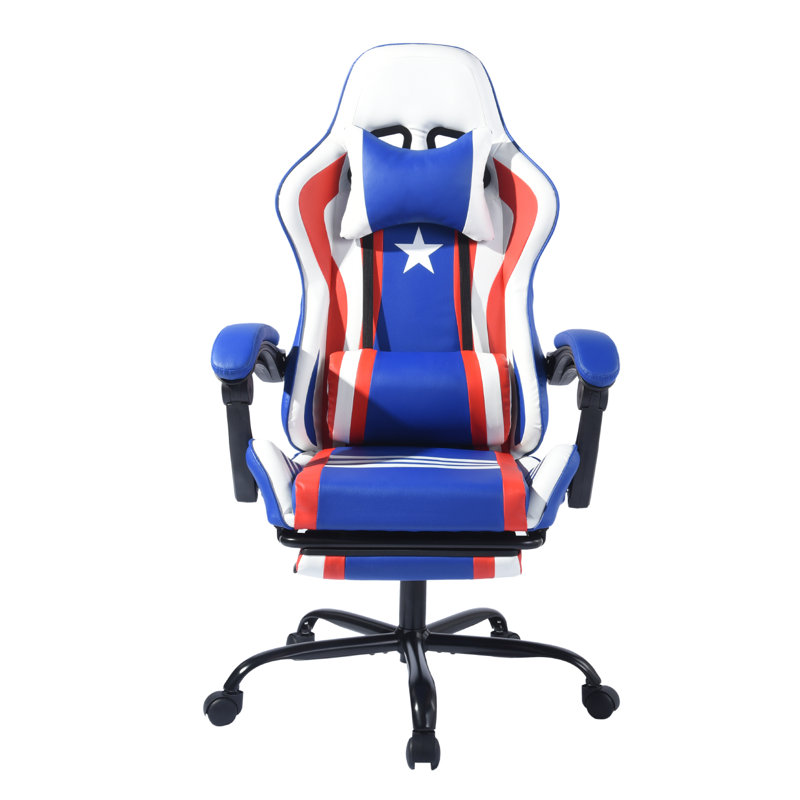 However, if you're not, well, you may find the coloration a bit unusual or awkward. It made a list at all because it is still under $200 and it received 4.5 out of 5 stars. The folks who have used this chair say that it fits people of all heights and it is very comfortable for prolonged use.
The backrest adjusts independently of the seat, and this one has the unique feature of a center tilt. The chair does recline, but it can be permanently locked into a tilted position without having to be reclined by the tilt lock feature.
This chair features a nylon base with casters for easy rolling. The armrests will not fold out of the way, but they do slide with the back adjustment, so they are never out of reach. The lumbar and neck pillows are fully adjustable and removable.
Here are some of the key features:
Angle and height adjustments for the backrest
Reclines and swivels
Center point tilt with tilt lock
Lumbar support
Nylon casters for easy rolling
Headrest and lumbar pillows included
Adjustable height
Holds up to 260 pounds
To recap –This chair has a strong, comfortable construction and is great for a full day of laying back and gaming, especially if you're a bit taller. The coloration is very specific, and the price is a little higher than the rest. Overall, it may just be your ideal chair.
This chair ranked fifth for the quality and value. Reviewers claim the footrest is a little short. However, you are getting a comfortable chair of decent quality for under $90. It's not going to be top of the line, but it is comfy and well-constructed. It also comes in a variety of colors.
This chair has sturdy construction with a tubular, star-shaped steel base and a deep bucket seat for maximum support. It also has a high back, perfect for relaxing as well as fully supporting your spine.
There is extra cushioning in both the seat and the back, and the base folds up if the chair ever needs to be stored away. It can be adjusted for height, and recline position and the armrests are thick and padded.
Let's look at the key features:
The base is foldable yet sturdy – perfect for storing away when not in use without compromising on strength.
The backrest is adjustable for maximum comfort
Comes with both a headrest and a lumbar pillow that are removable
Reclines and swivels
Made of high-quality leather
Broad backrest and adjustable footrest.
Comes in 3 different colors
Supports up to 250 pounds
Overall this will be an excellent chair. You won't find a better chair at this price point, and it has a 4 out of 5-star review!
Non-Standard Alternative Xbox One Gaming Chairs
The ultimate gaming chairs of this style come to you in the many different forms of the XRocker!
Some X Rocker chairs have pedestals that will raise the chair off the floor, but many of them only sit directly on the floor on rocker rails. There are a couple of models that are more chair-like, but the main style of these chairs has them directly on the floor. Several models come with haptic feedback, and all of them provide wired audio.
Some of the higher end models offer Bluetooth audio and bass-centric vibration motors to immerse you in the sound entirely. For the chairs to work with the Xbox audio, both the chair and the Xbox One need to be connected to the TV (Xbox audio in – Chair audio out). However, you will have a personal surround sound. If your TV can broadcast over Bluetooth, this will also work, depending on the model.
Let's talk about selling points:
Customizability allows for perfect price points

You can get a basic mesh model for $40 that still comes with built-in sound and RCA cables.
You can get a wireless, Bluetooth, top-of-the-line, leather model with adjustable arms, haptic feedback, and super comfy padding for $250-$300.
You can pick and choose your features and create a chair that fits your budget.

They come in a variety of colors and materials
Weight limits start at 275 and go as high as 400 pounds.
There is even a model that is less like a racing seat and more like a beautiful piece of living room furniture that has dual cup holders and reclines (It retails for around $350)
Most come with arms, but they are removable or will rotate out of the way
Let's take a look at a few so you can see the customizability:
Here is the X Rocker Extreme X Classic:
It has a breathable mesh backing that will stay cool as you sit in it for more extended periods
Full back support
Built-in speakers compatible with all sound systems that hook up directly with RCA connections or can utilize a pass-through (such as Xbox HDMI to TV and TV RCA to chair) – cables included
Audio controls directly on the chair
Sits directly on the floor so it might be easily moved or stored
Low cost at only $40, this is a great value!
This model does not come with armrests, but it is well padded and perfect for gamers of all ages. Ultra-light construction and easily foldable design make moving this chair out of the way or putting it up for storage a breeze. The mesh backing is breathable and comfortable for long hours of use. The sectioned padding means comfort for all heights and ages.
How about the X Rocker Pro Series Pedestal 2.1:
This model comes with a pedestal, so it pivots and swivels
Gunstock armrests
Ergonomic design
Audio controls directly on the chair
Black leather with white stitching and grey piping
2.1 sound system (this one includes a subwoofer)
Connect to multiple chairs for a shared experience!
This one is priced at the lower end of the mid-range at around $80
Besides it having the same compatibly and including RCA cables as the first X Rocker example, this model also has built-in wireless radio capabilities. While this chair does not recline when it's on the pedestal, the mounting hardware can be removed, and it can be set on the floor to work as a rocker as well.
Check out the X Rocker II:
Here is another model that, like most of the X Rocker style, does sit directly on the floor.
This model folds in half for easy storage
Has armrests that fold back out of the way if not in use
2.1 sound system
Multi-chair connectivity
Audio controls directly on the chair
Price point around the middle at $120 or so
This model is the one we chose for our gaming experiences. They do still hook up via the TV for Xbox One. Sound quality is excellent – total emersion! Having two of the chairs connected keeps the team on point.
Then there is the X Rocker Mesh Pedestal
This style features four separate speakers and a subwoofer that utilizes the audio-force design by Ace Bayou so you can feel your sound!
Still includes the standard RCA hook up for HDMI systems
Pedestal design raises players off the floor
Tilts and swivels
Striking purple mesh center surrounded by a black, cool-to-the-touch polyurethane seat
Ergonomic seat design with side-facing speakers
Folds down for easy storage
Armrests fold out of the way when not in use.
This chair is priced around the upper mid-range at around $190 and includes onboard controls for sound with separate controls for volume and bass. The sound mode can be modified mid-play to allow for the best set up for every game, movie, or style of music.
Now let's see the X Rocker Pro Series H3
This bad boy has Bluetooth capabilities to hook up to your TV wirelessly, though it does still include the standard RCA cables
Back folds down for easy storage
Features additional vibration motors that sync with the bass to enhance sound emersion
Built-in controls for separate volume and bass control
Padded headrest and gunstock armrests (that do not fold away) for added comfort
This one is priced at the upper end of the average range, ringing in at an around $250, though we found a couple in the $130 range for a quick snag (limited quantity).
The X Rockers that have Bluetooth capabilities can receive audio from any device that is also Bluetooth compatible such as a phone, laptop or tablet. If your console has a Bluetooth mode, though, it will not receive that signal. For the chairs to receive the sound from the game, they either need to be wired into the TV and, so too must be the console, or your TV needs to have Bluetooth capabilities, so it might see and communicate with the chair.
The pedestal style chairs are about 18 inches off of the floor, and the seat height for the floor rockers is about 8 and a half inches. Some do require power adapters though many run on batteries. Most models have high backrests that support your whole spine and neck for comfort and stability as well as an excellent place to breathe a sigh of relief and do a good slouch after a long battle.
So, there you have it! These are the best finds of 2019 for the different styles of gaming chairs for Xbox One. These are, however, only a few of the options out there!
If nothing on this list tickles your fancy, feel free to take this information and use it to help you find exactly for what you're looking. If our report helped you in any way, let us know! We'd love to hear what you found. If you did see your chair among our top five, let us know that, too! Please leave us a note letting us know what you think.
Happy gaming!